Low Vision Aids
Many people with dual sensory loss have some useful vision. Use of a low vision aid may mean easier access to reading print, seeing photos or pictures.
There are many types of low vision aids that will vary in strength from 1.5 x up to 20 x magnification.  Magnifiers are an option with the advantage that many are portable and light weight. The way a  magnifier is used will differ depending on the type and focal distance.Electronic video magnifiers have more powerful magnification with options of adjusting colour and contrast to suit the user. Electronic video magnifiers are available as portable devices or a larger piece of equipment that will be more suitable for use on a desktop; although some desktop models are lighter in weight and can be transported easily. Using a desktop version of an electronic video magnifier has some additional advantages when using it for writing or viewing diagrams or maps etc.
Training the user in techniques that will ensure they can gain maximum benefit from a low vision aid may be necessary, particularly when using a higher strength magnifier or an electronic video magnifier.
Depending on the effects of the eye condition, what may be suitable for  someone with Retinitis Pigmentosa will not necessarily be suitable for a person with Macular Degeneration.
Note: When choosing a low vision aid a person should seek support and advice from a professional to ensure the device is going to meet their individual needs.
Magnifiers
It is important for users to be aware that as magnification increases, the galss area of the magnifier becomes smaller reducing how much can be seen at once. There are many different types of magnifiers, some that will fold away for carrying in the pocket or handbag when not in use. Others are larger and depending on the type will be used in different ways. Some magnifier types include:
Handheld magnifiers that are held away from the page
Stand magnifers that may have a set focal range are placed directly on the page
Magnifiers with inbuilt illumination
Pocket magnifiers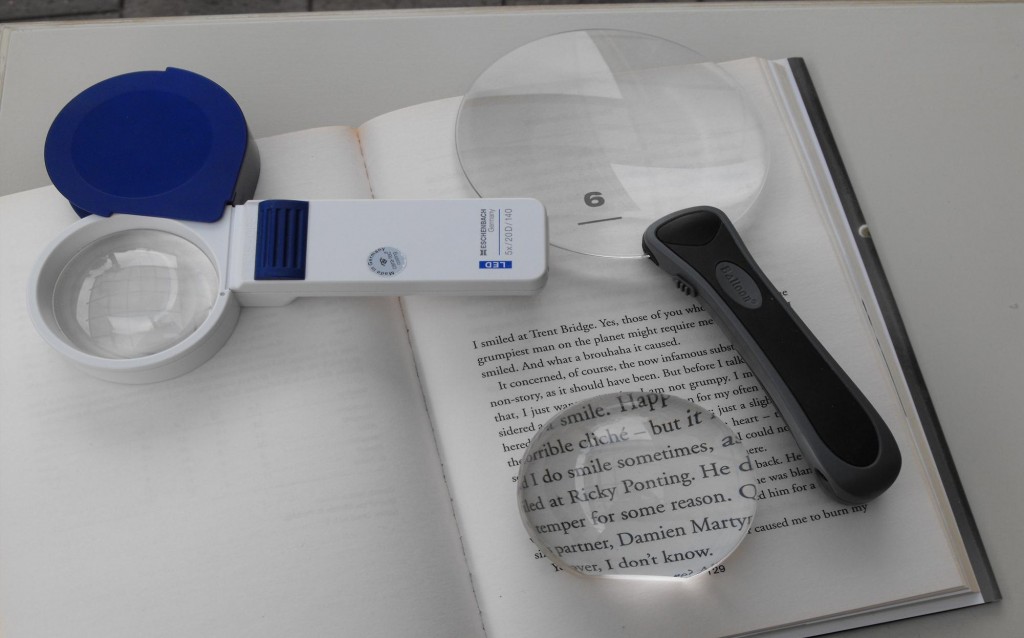 Handheld Illuminated Magnifiers
Eschenbach Mobilux
Handheld illuminated magnifer distributes even light
Available with round or rectangle lens
Magnification ranges from 3x to 12.5x
Large easy light switch easy to operate
Handheld Illuminated Pocket Magnifiers
Eschenbach easyPocket
Illuminated pocket magnifier with case
Size of a credit card when stored in protective case
3x and 4x magnification
Eschenbach Powerlux
Illuminated Stand Magnifiers
Eschenbach Scribolux
Illuminated stand magnifier
Can be used for reading and writing
2.8x magnification
Video Magnifiers
Electronic video magnifiers are more powerful than standard magnifiers with some models having the capability of magnifying up to 60x. Video magnifiers can be used for people with low vision for greater clarity with tasks such as writing, reading print, viewing pictures, reading medicine packaging, photos and other graphics.
Video magnifier systems work with an inbuilt camera that picks up and enlarges images onto a screen. Video magifiers are available as astatic or portable desktop equipment (CCTV's); or portable pocket devices. Prices will vary according to features.
There is more flexbility for the user with some devices having adjustable levels of magnification, freeze frame, brightness controls, choice of screen background and print colour including negative and positive views.
Pocket and Portable Video Magnifiers
SmartView Versa +
Handheld Video Magnifier
Humanware (Australia) www.humanware.com
Ruby
Handheld Video Magnifier
Pacific Vision (Australia) www.pacificvision.com.au
SmartView 360
Portable Desktop Magnifier
Humanware (Australia) www.humanware.com
Sapphire
Portable Video Magnifier
Pacific Vision (Australia)
www.pacificvision.com.au
Desktop Magnifiers (CCTV's)
SmartView Synergy PI 20″
Humanware (Australia) www.humanware.com
ClearView +
Quantum Technology
www.quantumtechnology.com.au
Topaz
Pacific Vision (Australia)
www.pacificvision.com.au