Orientation & Mobility (O&M) and congenital deafblindness webinar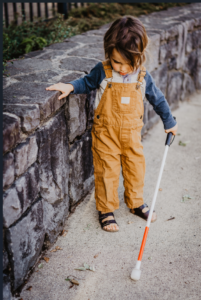 People with deafblindness can benefit from the development of Orientation and Mobility (O&M) skills. These enable them to understand their surroundings, know where they are, and to move through their environment safely and independently. The webinar will be live captioned and Auslan interpreted. Content includes:
overview of O&M
making sense of the world without vision and hearing
use of touch and haptics
using mobility aids
environmental adaptations
real-life experiences of people with deafblindness using O&M
audience questions
Date: Tuesday 30th May, 2023
Time: 9am AWST / 10:30am ACST / 11am AEST
Duration: 1.5 hours
Cost: Grant funded. No charge to attend.
Click here to register for the webinar