Congenital deafblindness workshops around Australia
Workshops offered in all states and territories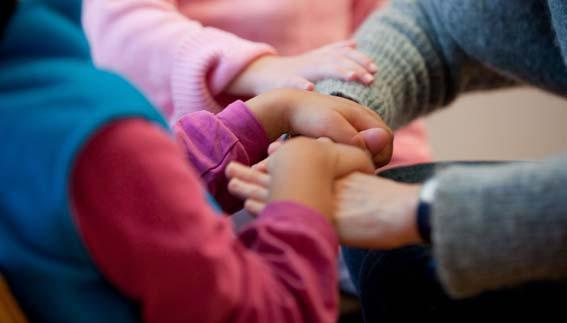 Image description: One child lays their hands over and grasps the hands of an adult. Another child rests their right hand on the adult's forearm. Only the arms and hands are visible in the photo. Image source:Tanne
Deafblind Information Australia project officers will host a series of one day workshops around Australia from June to December 2021.
The interactive workshop is suitable for education staff, therapy professionals, families and others caring for or providing services to people born without full vision and hearing. Topics include definitions, causes, maximising functional vision and hearing, teaching and learning strategies and deafblind communication. Bring questions and case studies for personalised learning. The workshops have been funded by an NDIS Information Linkages and Capacity Building Grant and are free to attend. Bookings essential.
Recommended preparation viewing: In a new tab open News page on congenital deafblindness training modules
On booking, please advise of any access requirements e.g. Auslan interpreters, alternative format preferences
South Australia
Adelaide: Tuesday, 30th November 2021
Tasmania
Hobart: Thursday, 2nd December 2021
Queensland
Brisbane: Friday 1st October, 2021 (Postponed due to travel uncertainties with COVID)
Western Australia
Perth: Friday June 18, 2021
Victoria (Postponed due to travel uncertainties with COVID)
Bendigo, Ballarat, Melbourne
June 28 to 30, 2021
Australian Capital Territory (Postponed due to COVID restrictions)
Canberra: Friday July 2, 2021
New South Wales
Coffs Harbour : Thursday September 30, 2021 (Online via Zoom to those already registered)
Sydney: Wednesday September 29, 2021 (Cancelled due to COVID lockdown)
Northern Territory coming soon.
To join the mailing list to find out about new resource releases on congenital deafblindness or enquire about bring a workshop to your area email Deafblind Information Australia