Everyday Living Products
This section provides information on a range of products that may be useful for people who have dual sensory loss.
Examples of aids and devices covered in this section are not exhaustive. There will be many more options for products shown that may be just as effective.
Independent Living Centres (ILCs) are based in each State and are a good source of information. Demonstrations can be arranged to trial equipment, with advice and guidance on what may be suitable. ILCs do not sell equipment, they will however, provide a list of suppliers in local areas.
Another source of suppliers of some of these products are organisations providing services to people with vision impairment.
Many items can be found in mainstream stores and department stores.
Contrasting Non-Slip Mats
Textured non-slip mats are sold in many large stores either pre-cut or on a roll to be cut to size
Contrasting colours make it easier for people with vision impairment to locate items placed on them
Texture of mats also act as a tactile cue
Mats grip to surface so that items placed on the mat will be less likely to slip
Chopping Board with Swivel Knife
Knife tip pivoted
Food is placed under blade, knife is swiveled into position, move free hand away before cutting to avoid injury to fingers
Can be used with both hands holding knife to push down and cut food
Palm Peeler
Easy to grip
Slide along vegetables to peel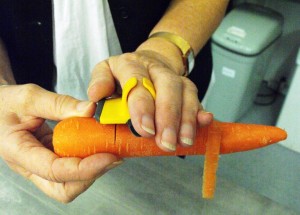 Safe Slice
Can be used as a tactile guide for knife without coming into contact with fingers
Protect fingers when preparing and slicing food
 Jar Openers
Available in different styles and sizes
Assists when opening jars and bottle lids
Hands Free Can Opener
Battery operated can opener
Attached to tin magnetically
Press button to operate
Removes lid off completely which can be released into bin without needing to handle
Ring Pull Openers
Available in different styles
Plastic hook lifts ring pull to peel back lid
 Silicon Shelf Guard
Heat resistant strips clip on oven shelf
Provides visual contrast when locating oven shelves
Protects fingers and hands when reaching into oven
Oven Gloves
Protect hands when removing items from oven
Silicon oven gloves are heat and slip resistant
Can be used to pick up hot food items
Washable in soapy water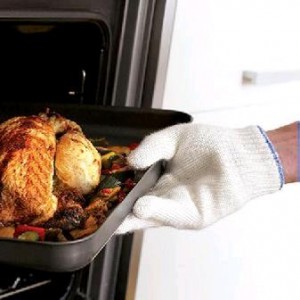 Other options are available to protect against being burnt such as:
Heat resistant woven gloves that fit more securely on hands
Oven gloves with extra long sleeve
Tactile Markers
There are a number of options to mark control settings to enable people with dual sensory loss to maintain independence and operate appliances and remote controls independently. For example:
Bump-ons
Puff paint
Velcro dots
Liquid Level Indicator (LLI)
Hook LLI over side of cup/glass
As liquid rises and makes contact with prongs the gadget buzzes and vibrates to alert user to stop pouring
Avoids risk of scalding and spillage when pouring hot water
Liquid level sensors can come with two levels. This is useful when measuring not only for hot water but also when you add milk to a drink such as tea or coffee
Self Opening Kitchen Scissors
Slip resistant grip outside of handles
Lightweight spring loaded scissors
Breville 6 L Stainless Steel Urn
Reduces risks when making hot drinks
Urn is placed on counter, no need to lift when pouring hot water
Place cup/mug under water outlet and release tap lever
Talking Measuring Jug
Speaks liquid measurements in metric and imperial
Male voice with adjustable volume
At the press of a button reading can be re-set to zero to add additional liquid to be measured without having to empty the jug
Holds up to 2 litres of liquid
Talking Kitchen Scales
Weighs in metric and imperial
Clear male voice
Adjustable volume control
Buttons are both tactile and large print